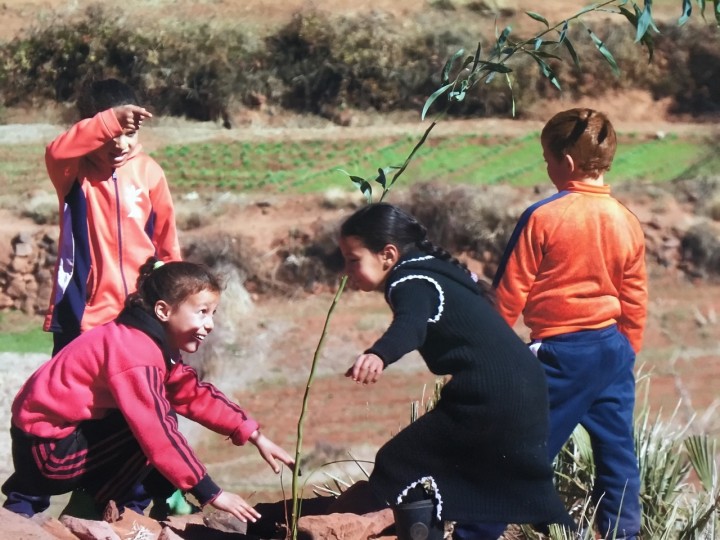 Project data
Tizi n'Oucheg
Regeneration
Karine Benabadji
18.03.2019
3394 €
of 15000 € Target Amount

25.12.2019
---
Note: Donations start at 5 euros. Up to 15% will go to project transaction costs such as PayPal and money transfer. For more information please read the FAQ.
Summary
Tizi n'Oucheg is a Berber village, located 60 km from Marrakech, with a population of 600 inhabitants. This village is situated in the High Atlas at an altitude of 1,600 m in Ourika Valley.
The Aït Oucheg region is made up of 5 villages and Tizi n'Oucheg is the farthest and the most isolated This isolation galvanized the villagers into taking care of their future. Eight years ago, they collectively created the Tizi n'Oucheg Development Association (ATND).
The primary aim of this association was to improve living conditions in the village, so that young people can envisage their future there instead of leaving. Since then, several socio-economic and cultural projects have been carried out by the villagers. Everyone helped in building a boarding school for secondary school students, a road and a wastewater treatment unit, and provided access to potable water while starting waste sorting, among other projects.
Rachid Mandili is the protagonist of this project and the face of autonomous community development in Morocco. This 40-something-year-old Berber has an infectious passion, an undaunting optimism, and shares his vision of an autonomous development-worthy village with his family, neighbors and the Tizi n'Oucheg community. He realized very early that the villagers could work to improve their well-being and was able to propose useful projects to the community, encouraged by the village association and the wise counsel of his friends from Open Village. Rachid is working with Ecofund to replant fruit trees with each family.
Rachid is a wonderful person, mountain guide and lodge manager (we strongly recommend a stop at this lodge), who can mobilize positive energies around him. He once initiated a potable water system project, then a new boarding school and a football turf rented, now, by the youths. Presently, the tree planting project will protect village lands from erosion. Indeed, Rachid is a ray of hope, and champions this project.
Once, the village was surrounded by walnut trees. But in the 1970s, most of the trees were cut and the wood sold. Presently, people know the importance of reforestation, as trees protect the land against erosion (for example landslides) and empower Tizi n'Oucheg inhabitants, who can process and sell the fruits.
And the bonus is…: trees contribute in the protection of our planet's climate.
Four tree types will be planted: cherry, walnut, almond and carob trees.
Apart from the cherry trees that the villagers know but are not used to planting, the three other types are traditionally grown in the village. Planting will be in three stages:
• 1st stage: February 2019
• 2nd stage: From October 2019
The planting sites were demarcated after the study by an Agronomy lecturer, Charles Bonnin, who provided relevant information on the evolution of rainfall, the layout of planting sites and irrigation of the area.
In 2017, at the end of the study and following conclusions drawn on the urgency for reforestation, 1,000 trees were successfully planted.
As a result of this experience, Rachid and the villagers proposed that each of the 110 families in the village plant 10 trees per tree type, making it 40 trees per family which is a total of 4,400 trees. Each family will own and care about its trees.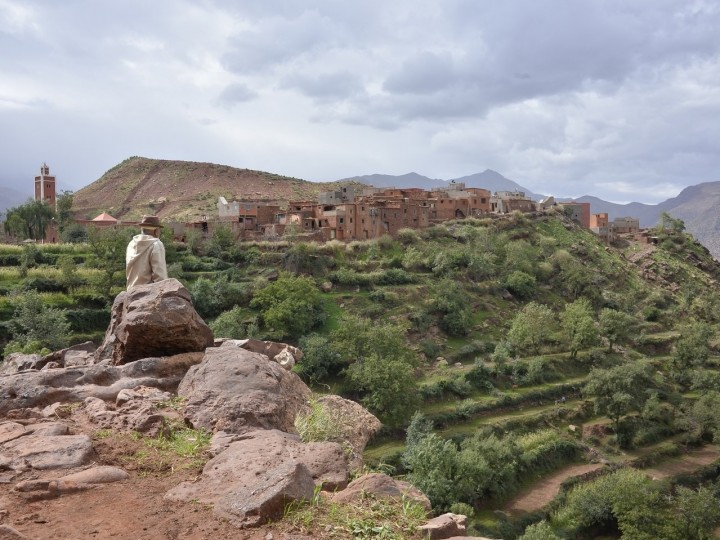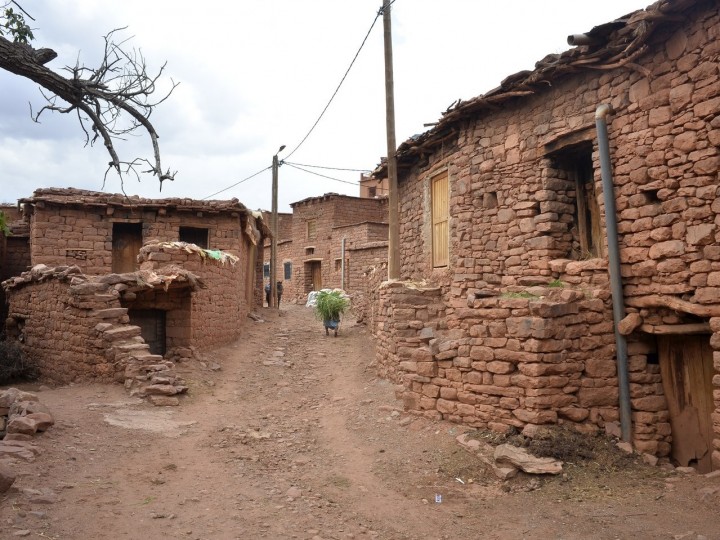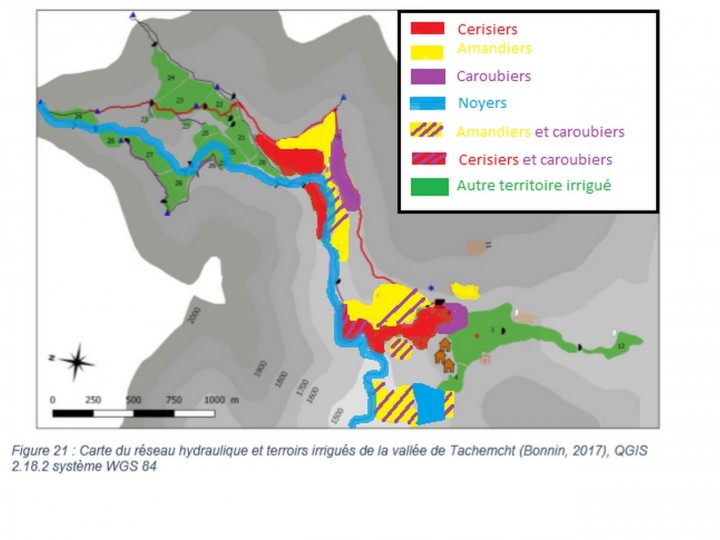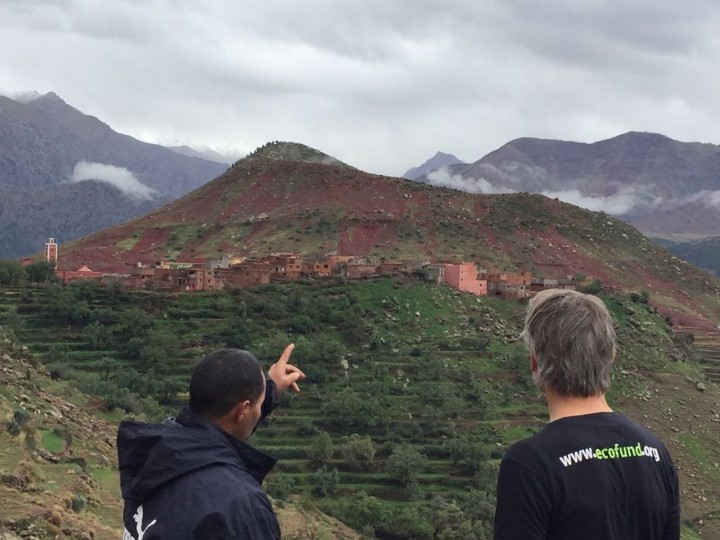 How will your donation help the project?
Your donations will be used to buy and transport tree seedlings to Tizi n'Oucheg. The villagers will plant, irrigate, protect and maintain the seedlings. Their labor is their contribution to the project.
The positive socio-economic and environmental impact of the project is obvious: The need to use traditional techniques will value the cultural heritage, make agricultural land development more sustainable, and will significantly reduce agricultural's negative impacts on the natural environment. Moreover, planting these trees is a solution to soil erosion in Tizi n'Oucheg, which faces a vast landslide problem.
This project contributes to the valorization of the natural heritage and to the preservation of the traditional landscape. It is fully integrated into the socio-economic development system of the Douar (group of inhabitants) of Tizi n'Oucheg. This sustainable approach of securing a future source of income is consistent with the village's development project, contributing to the village's self-reliance by building on local know-how. In addition, a stable source of income will encourage families to remain in the village.
It is also a pilot project, for the region, which can inspire surrounding villages.
By contributing to this project as an Ecofunder, you will be warmly welcomed by Rachid and his team at the village lodge. They will show you the exact sites of the new plants that you have helped to fund. For those who might not get the opportunity to go on an excursion to Tizi n'Oucheg and discover its beautiful mountainous landscapes, we will, of course, keep you informed about the progress of the project, as it unfolds, on our platform.
Ecopartner for Plant your tree in Tizi n'Oucheg!

Karine Benabadji
www.open-village.org/wordpress/
The plantings will be coordinated, and the results monitored by the Open Village organization, particularly Karine, who will support the ATND in project monitoring.
Open Village is a private non-profit organization whose main objective is to promote autonomous, ecological and collective community development.
Updates
18.03.2019 › Plant your tree in Tizi n'Oucheg! project update
In December last year we launched a fundraising campaign for a new project in Morocco: Plant your tree in Tizi n'Oucheg.
By planting fruit trees, the project will help protect soil against erosion and give the families an additional source of income, as soon as the trees will produce fruits.
We highly recommend this project, because it is initiated and led by very dynamic villagers who take their destiny in hand. So far, thanks to the donations of Ecofunders, two months after the launch of the fundraising campaign the first 1.000 trees have been planted by the villagers on family plots: cherry, walnut, almond and carob trees.
Furthermore, thanks to the project the Tizi n'Oucheg Development Association (ATND) has created a new job by employing a villager for coordinating the tree plantations.
We size the opportunity to thank all donors for your contributions so far which currently cover 7% of the total project costs. It is a good beginning, but you can do even better by mobilizing your family, friends and colleagues…
This tree planting project not only takes you on the journey to a dynamic mountain village but also and offers you the opportunity to make you "green contribution" for our planet for 2019 in a very concrete manner!
The return on your donation to this project is the compensation of your Carbone footprint!
According to certified calculators in Germany, the flight Casablanca - Francfort – Casablanca produces on average 1.2 tonnes of Carbone per person, which a beech could absorb in 80 years. Sure, a cherry of a walnut trees is not a beech. In other words, in order to offset your Carbone footprint of about 1 tonne you need to plant 8 trees in Tizi n'Oucheg, which equals a donation of 28 euros to the project.
So, what are you waiting for?! Compensate your Carbone footprint by planting trees in Tizi n'Oucheg and spread the news!