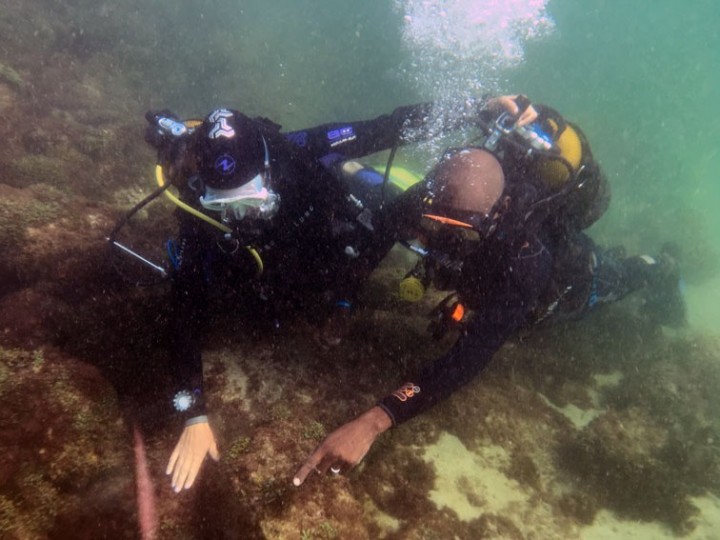 Project data
Dakar
Protection
Professor Malick Diouf
11.06.2017
1025 €
of 1700 € Target Amount

31.07.2017
---
Note: Donations start at 5 euros. Up to 15% will go to project transaction costs such as PayPal and money transfer. For more information please read the FAQ.
Summary
It is to complete the training of young future African champions in the protection of marine ecosystems in West Africa by teaching them to scuba dive.
Learning is good: putting it into action is better!
Too often, students in West Africa do not have the chance to go and see, discover and try out what they are learning about in their lectures and books.
Imagine learning a language that you never speak; an instrument that you never play … it is incredible!
This is even more true when it concerns the underwater environment. However, this is what two of the Msc. students in 'Aquatic Eco-systems Management', Aliou Ngom and Amadou Sene want and who are keen to 'acquire the basics in scuba diving to be able to have in-depth knowledge' (no pun intended). The problem is that they cannot afford to do this, and IUPA (the University Fishing and Aquaculture Institute) does not have a big enough budget to offer this to its students.
Ecofund, the students' professor, Malick Diouf and Nathalie Cadot, project partner, will focus on a team of three (3) of the 15 Msc. students at IUPA (Cheik Anta Diop University, Dakar), who, after a tough selection procedure, will be chosen to become 'champions' for their Masters and ocean protection spokespersons during World Ocean Day and other upcoming events.
Chosen for their strong motivation and skills, the three (3) students trained in scuba diving will enrich their curriculum with their new skills; in particular through their second year internship, and the publishing of articles and presentations.
Beyond helping them to build a future as expert researchers in the area of ocean protection, you will contribute by giving them a unique experience; a real physical challenge for many of them. They will share their emotions with us during their dives and let us discover Senegal's underwater depths.
This training will be rounded off on 8 June, World Ocean Day, with a clean-up of N'gor Bay's underwater waste and a presentation of the students' discoveries.
The final goal of the project is to make this first underwater diving training a success, and to advocate for it to become part of the university syllabus so that other students can benefit too.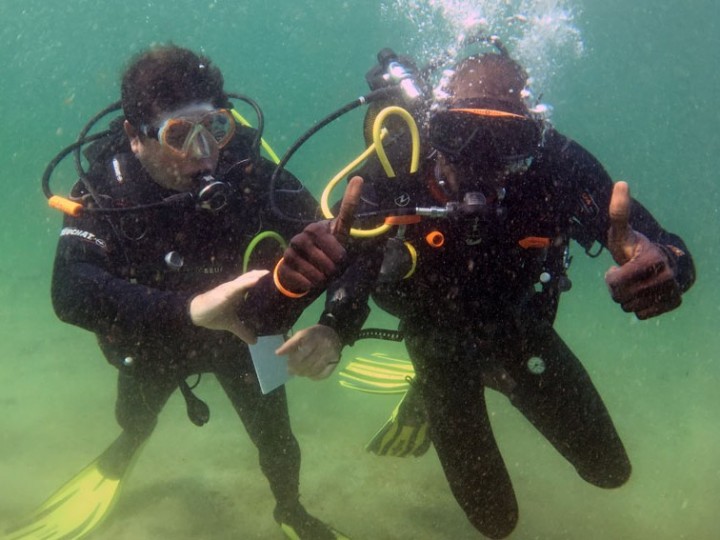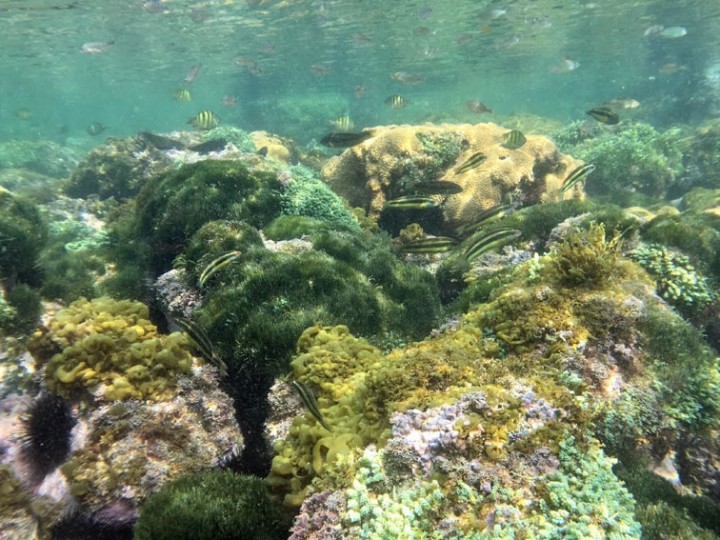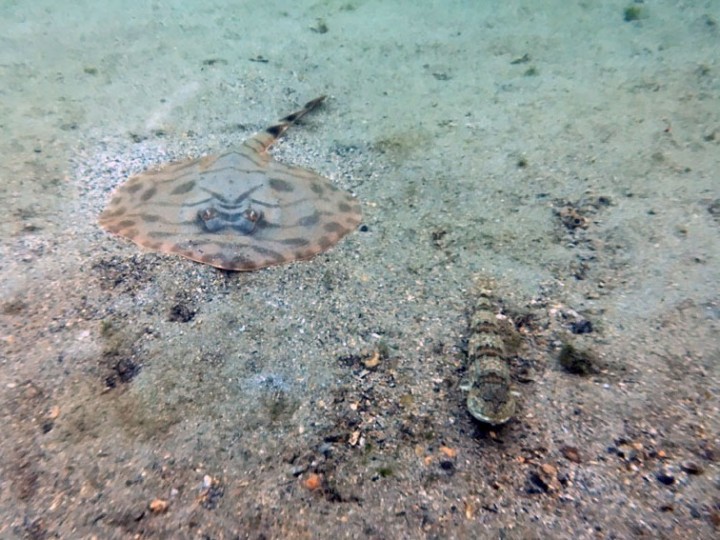 How will your donation help the project?
We are asking you to fund a scuba diving grant for each of the three (3) most-deserving students that will have been selected for their motivation and their future career plans from among 15 students having benefitted from our support in their first underwater dive. Each grant will allow training to be funded at PADI Open Water Diver level (9 sessions plus theory) and three (3) exploration dives. This training in the PADI system is recognized worldwide and will be valid in most diving centers.
The three (3) students selected will each contribute around 15% toward training costs and they will fund their own transport to get to the diving club located in N'gor.
The Barracuda Club Dakar has granted a reduction of 25% on trial dives and 15% on training, and has given free kits (flippers-mask-snorkel) for each student by its equipment supplier, AQUALUNG.
This training would not be possible if IUPA had not also provided supervisors and the institute is responsible for covering teaching costs.
Capitalizing on student training will begin once they leave the water, when they take up their pens to tell you about the species they discovered which intrigued or amazed them in particular, as well as share their ideas on the ways which West Africa can strengthen protection of its oceans.
Ecopartner for On your marks… study, dive, protect!

Professor Malick Diouf
Malick Diouf is a professor-researcher and director of IUPA. Well-versed in applied research and a great believer in practical training, he knows how to provide know-how to local communities to help them to manage their natural resources.
For example, he worked for many years with villagers from Delta Saloum (in Niodor, Fadiouth, Dionewar, Falia, Joal etc.) on shellfish management.
Passionate about applied research using traditional knowledge, he strives to enable students to test and put into practice their acquired knowledge. For him 'managing underwater eco-systems cannot be learnt only from books and in the classroom… it has to be experienced!
Updates
11.06.2017 › Our oceans, our future!
The "World Oceans Day" started with a Conference at the University Fishing and Aquaculture Institute IUPA in Dakar, Senegal with a participation of more than hundred students and of course our 3 champions, Fatou, Amadou and Babacar.
Fatou, Amadou and Babacar, made a surprise: they performed a sketch they have written in order to alarm their fellow students about the negative impact of plastic pollution, see the video below.
Thus, the conference was a very reach exchange of expertise and experiences on the pollution of our oceans and in particular on how to reduce or - even better – avoid it !
From talking to acting:
From 4 p.m. divers from the Barracuda Club Dakar, our 3 champions, Senegalese fire fighters, and surfers, BRI action and JFD, the N'Gor Island Surfcamp and "l'Amicale des amis de la baie de N'Gor", all together fifty volunteers came to the N'Gor bay in Dakar, Senegal, to clean-up of its beach and its underwater environment.
In less than 2 hours, 1 ton of garbage was collected, of which 300 kg on the beach and 650 kg under water !!!
It was a perfect opportunity for our 3 champions from the IUPA, just certified divers, to participate in the cleaning and thus to demonstrate their engagement for the protection of our oceans.
We are very curious to learn about the species they discovered, which intrigued or amazed them in particular during the diving training, as well as share their ideas on the ways which West Africa can strengthen protection of its oceans.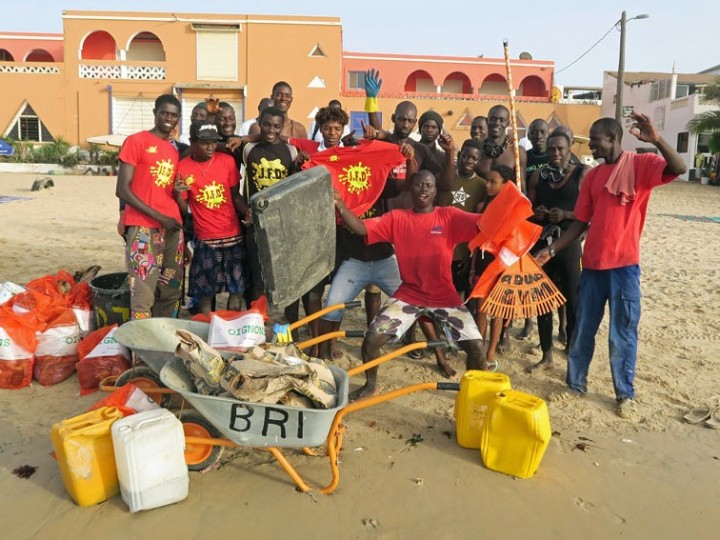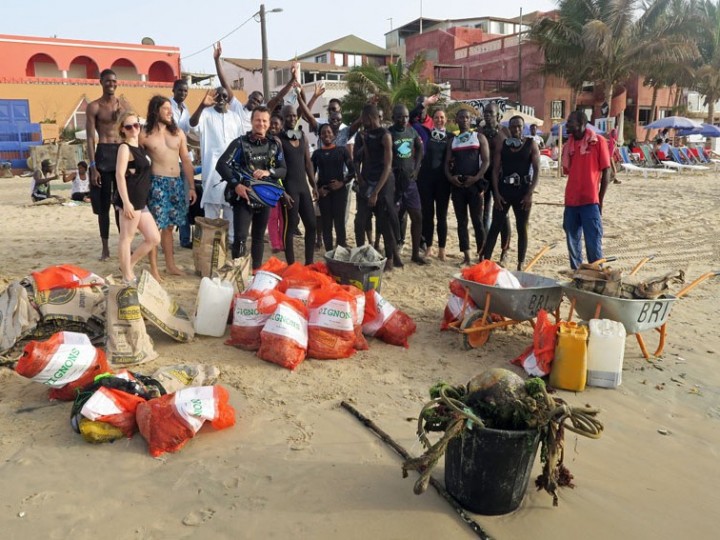 05.06.2017 › World Oceans Day
When?
Thursday 8 June
Where?
From 9 a.m. join us for the conference at the University Fishing and Aquaculture Institute IUPA in Dakar, Senegal
From 4 p.m. join us at the Barracuda Club Dakar N'Gor for clean-up of the beach and the underwater environment of the N'Gor bay in Dakar, Senegal
What?
Not talking – acting!
If you cannot join us, with Ecofund, Barracuda Club and the IUPA you have the opportunity to celebrate the World Oceans Day in a concrete manner by supporting our champions Fatou, Amadou and Babacar by making donation to the project "On your marks… study, dive, protect!
Your personal Happy World Oceans Day Gift!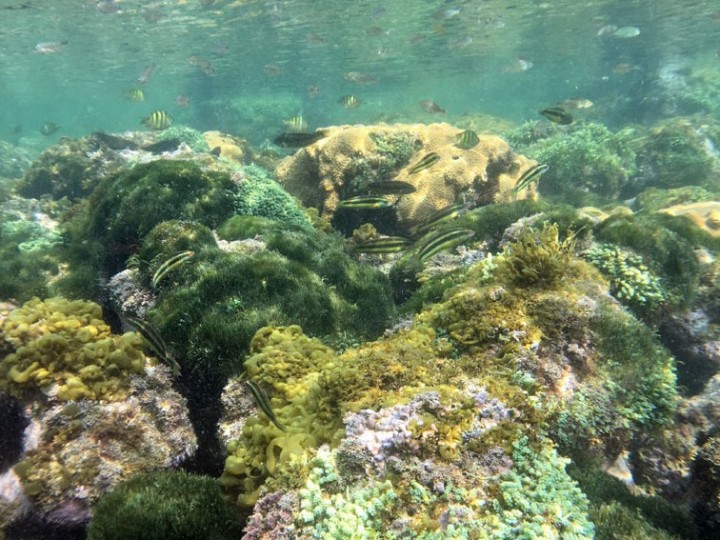 27.05.2017 › Please welcome Fatou, Amadou and Babacar our future green champions
We are proud to introduce to you the team of three MSc students in 'Aquatic Eco-systems Management' at IUPA (the University Fishing and Aquaculture Institute). Fatou, Amadou and Babacar have been chosen among 15 fellow students for their strong motivation and skills to be trained in scuba diving and so to become future champions in the protection of marine ecosystems in West Africa.
FATOU KINE GUEYE
I am 25 years old and I am one of the few women in the master programme. If you consider that I am not a great swimmer, you will understand that I need to be very motivated to do this dive training, which is a frankly speaking a big physical challenge for me ?
I found my vocation studying earth and life sciences in the high school, and I wanted to continue on this path. This is why after my bachelor's degree at the Université Cheikh Anta Diop in Dakar, I enrolled for the Master at the IUPA for two reasons: 1) I had always been passionate about discoveries, in particular in the water, and I also wanted to specialise in environmental protection and more specifically in marine protected areas, and 2) I heard a lot about the very good reputation of this institute.
My impressions under water?
I had an extraordinary experience during the first dive: It was exactly like in the documentaries! I loved the diversity of colours and forms of the seaweed, and the manner with which it held on to the rocks. Also, I discovered a very colourful species that I liked a lot: a nudibranch! (see photo)
Wow, it was an experience full of discoveries.
I look forward to my next diving session. I think this is really motivating for my studies and I can feel that, comparing with the other students; I have the chance to "live" the topic of my studies.

This is why I thank you once again for your support!
AMADOU SENE
I am young (26 years old), passionate about my studies, and I think I was selected for this project by the jury because I am one of the most motivated to do these dives!
Up to my undergraduate studies, I was fascinated by the courses of nature sciences, and among them ecology: you study all the relations that can exist between the different elements of the environment and you understand the need to have a good understanding about them. When I learnt in our zoology course that the vast majority of the animals of the earth are water organisms, something inside me decided to specialise in ecology of marine ecosystems. I think that later, when I am an expert, I would like to be very useful in this field where there still is a lack of information on the countless species and the situation of our coasts. This is a real challenge for Senegal. The health of our fishing industry depends on the health of our sea, and this is why we must avoid the degradation of our environment.
What did you experience under water during your first dive?
I had an extraordinary feeling under water. My initial fear was quickly put aside when I encountered the first different species which we only know from our books, such as sea anemones or the pufferfish, which besides was the topic of my study project. I was also impressed by the almost magical ability to breathe underwater!
For all this and it is just the beginning, I would like thank you for your support. It is an immense value for us to succeed in our studies.
BABACAR SANE
I was born in a village in the department of Podor on February 10, 1992 (25 years). This is where I learnt to swim.
Studying and working in marine ecology has always been my dream. I would like to participate in the management of the marine ecosystems. This is why I had chosen the program at the IUPA which allows me to deepen my scientific knowledge. I would like to know more about the impact of pollution on the environment of the sea that, in my opinion, must be well managed given its importance for the Senegalese economy because of the fisheries, but also for our own well-being. As a child of the river of Podor, I want to fight against the degradation of the water ecosystems."
And what were your first underwater impressions?
When I dive into the sea for the first time, it was extraordinary and fantastic. For the first time in my life, I saw a real school of fish and seaweed and many other beautiful things! Usually I see these things only in videos. I thought: "This is great! I breathe underwater!" It was an experience that I will certainly not forget!
Thank you for making this possible !